history books
This book, "Hubbardston, Yesterday And Today - 1968" is available at The Celtic Path in Hubbardston.
Many thanks to Shannon Fahey for typing in this text. We've proofed it, but please contact me if there are any errors.
Many thanks to Paul Fahey for scanning in the photos from this book.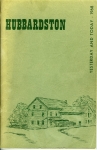 About the Author: Helen A. Cusack

Helen is a native of the Hubbardston area, graduating from St. John the Baptist High School. She then attended Eastern Michigan University in Ypsilanti from where she received a bachelor's degree with a major in history and English.

She then became a teacher and started her career at the one-room Daniels School in Clinton County. Later she was named high school principal at Fowler Public Schools, but after two years went back to the one-room school type of teaching in North Plains Township near Hubbardston.

In 1942 she moved to Belding to serve as a teacher there, but after only nine weeks she became ill. Doctors advised her that she should discontinue her teaching career. She went to work at Belding Library and has been assistant librarian for over 20 years.

The Anniversary Committee wishes to sincerely thank Helen for the many hours of work she has dedicated to making the Hubbardston History Book a real success.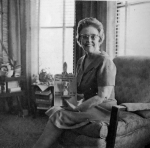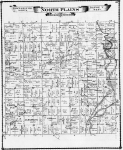 There Was A Land

It was a good land-fertile, well drained, and heavily timbered with pine, maple, ash and oak. Until designated, in 1831, as North Plains Township, Ionia County, a land inhabited only by wandering groups of Ottawa and Chippewa Indians, and visited only rarely by trappers and traders-for in 1826 Louis Genereau, French fur trader had established a post on Maple River, present site of the village of Lyons. Another white man, Charles Barker, drowned in Maple River in 1826 and, as legend has it, is buried in the East Plains Cemetery.

Few stories regarding the Indians, who once roamed the area, were handed down by the first settlers. Certain it is, with a large Indian village located in the Lyons-Muir vicinity and a second group living on the banks of Maple River, south of Matherton, small bands must have been frequent visitors to the Fish Creek area.

In the 1860's old settlers recall Indian families, from reservations farther north, wandering back and camping for a few weeks. An Indian burial ground, a high hill on the Norwood Tabor farm, south of Maple River, was still used in the 1860's-families from the Reservation, near Mt. Pleasant, would bring their dead there for burial.

Other men were waiting, eager to share the bounty of that good land-Easterners yearning for its cheap farm acreage and to share in the booming lumbering industry of a new state.

After the Land Office was established at Ionia, in 1834, first to make their way into the area, in May 1836, were Hiram Brown and Hector Hayes, from Bristol, N.Y. They looked at the land in sections 31 and 32-they called it good, and theirs were the first families in North Plains.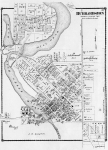 Then in 1836, J.R. Langdon, from Montpelier, Vermont, a land speculator, primarily interested in lands embracing water mill sites, walked from the mouth to the source of Fish Creek, tributary of Maple River. Along its course, he purchased some 2,000 acres, including the site of the present village of Hubbardston.

Three miles north east of the Hayes-Brown settlement in the late 40's and early 50's came a hearty group of immigrants, from Ireland, land of hunger and oppression, eager to establish homes in a strange new land. First Irish settler was John Cowman, in 1849, who took up land in Section 11. Others came and by 1870 there were 70 farm families in the "Irish Settlement", west of the village of Hubbardston.

In 1852, 240 acres of the Langdon tract, site of today's Hubbardston, were purchased by Joseph Brown, of Kalamazoo. The building of a dam and erection of a small saw mill exhausted his capital and, the following year, he sold his holding to Hubbard, Taylor and Co.-a group of Easterners, Thomas Hubbard (for whom the town was named), Wilson Homer, Noah Hitchcock and N.W. Taylor. These men were already owners of large tracts of pine on Fish Creek, north of the present village and felt that the time had come to capitalize on the timber resources of that area.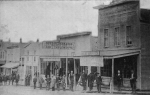 They Build A Town

First buildings erected by Hubbard, Taylor and Co. on the site, now the village of Hubbardston, in 1853, were a small mill, a boarding house, and a tavern. The following year, the mill was enlarged and a general store was started by two other Easterners, J.T. Holbrook and D.F. Hunter. Asa Patrick and J.F. Collister arrived in 1854, to join the Hubbard, Taylor Co., the dam was improved, the mill enlarged, and, with a force of 20 men, they commenced the small beginning of what was to become a thriving lumbering and milling business. In 1856, a hundred horse power steam engine was installed in the mill and its cutting capacity increased to 25,000 feet per day. The same year, Hubbardston's first hotel, the Howard House was built-short lived was the Howard House, sold to Eli Welch, in 1866, the structure burned two years later.

Hubbardston's present grist mill was built in 1857 by Patrick and Sabin, it later became the W. Homer Grist and Flouring Mill. By 1868 the mill was producing 100 barrels per day-"Pride of the West", brand flour, "second only in quality to the highest grades manufactured in St. Louis, Missouri". The mill now owned by Walter O'Neill, and St. John, the Baptist, parish hall, built in 1857, as the village's first public school, are the two oldest buildings in Hubbardston at the present time.

The first post office was established as Plains, Sept. 13, 1858. The following year, the name was changed to Hubbardston and James Holbrook was appointed as Postmaster. Others serving as Postmaster, prior to 1870, included Wm. Wilson, Jacob Howard, Albert Russell, Edw. Cahill and John Abbott.

By 1867, the tiny hamlet had grown to an incorporated village of 1,200 with Wilson Homer elected, in 1868, as first President. According to a Directory, published in 1868, by E.V. Phister, owner of the Hubbardston Advertiser, an independent 7 column weekly, the town then numbered a score or more of businesses, 5 hotels, 2 boarding houses and more than a few saloons.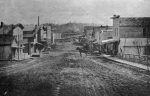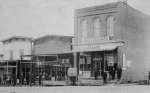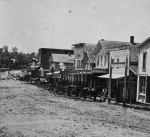 One hundred years ago, there were four doctors; J.J. Robbins, Elmore Palmer, C.E. Hait and I. Winegar to minister to the ills of the community and injuries in neighboring lumber camps. Dodge and Warner, Attorneys at Law, and D.R. Corey, Notary Public, Insurance and Claims Agent, were available to cope with the residents' legal problems. The firm of Perry and Abbott carried a line of boots, shoes, harnesses and trunks and Robert Gardner was a wagon maker. Lumber, lath and shingles, lumber camp supplies, flour, feed and grain could be purchased from W. Homer and Co.

The output of the Hubbardston Sash and Blind Company, owned by G.W. and O.C. Townsend, went to Chicago markets to supply sashes, doors and blinds for mansions being built in that city. The Stuck and Lusk Foundry had a contract to manufacture parts for the famed Studebaker wagons, while Simon N. Smith was in the business of making suction and force pumps.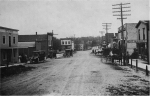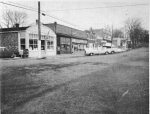 A grocery store was operated by Redner and Drake, D.R. Corey carried a line of staples, and dry goods, drugs and medicines could be obtained at the Tabor Brothers store, while Robbins and Wheeler sold drugs, paints, oils, dye stuffs and Yankee notions. The stores of A.A. Sunderlin and Reynolds, R. Webber and the Chatterton Brothers, supplied Hubbardstonites with dry goods, crockery, farming tools and furniture.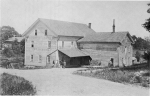 When Pine Was King

Prosperity of Hubbardston, in the 60's and 70's, resulted from Michigan's lumbering boom-colorful era in our state's history. Just a few miles north of the village were the tall straight pines. Demand for their harvest was wide spread-lumber for homes, ties for railroads, telegraph poles-even masts for Clipper ships. So entered the booming, bustling lumbering era. A broad stream to bring the logs to the mills-men to harvest the crop, not alone the professional lumberjacks who had "followed the pine" from the Eastern states but, also, that local source of labor-the struggling farmers of the area-eager to earn money for another 80 acres, a spanking driving horse, or a well-matched team to replace that plodding span of oxen. so off to the lumber camp!

Rugged and primitive those camps-they were isolated, the hours were long, and the work perilous. But the money was good, twenty-five or thirty dollars a month, with room and board. The tall tales and lumberjack ballads about the pot-bellied bunk house stove broke the monotony of the long Winter evenings in camp and contributed much to our nation's folklore. They stuck it out until Spring-awaiting the log drive-climax to the Winter's work-that drive down Fish Creek, an operation filled with danger and thrills, to Hubbardston's waiting mills.

The annual invasion of the lumberjacks-their stop-over in Hubbardston, before scattering to their homes. Colorful are the tales told of that period in the town's history. Deloused, barbered and, after donning their dress-up clothes, left, last Fall, before their departure to the camps, and with money burning holes in their pockets, the lumberjacks took over the town.

From dawn to dawn they celebrated. Floors in the downtown's oldest buildings still bear the marks of their boot caulks-many are the stories told of their brawls and escapades. However, in a few weeks, they departed to their farms, or other lumbering jobs and Hubbardston resumed its normal routine. The harvest of the pines marked the end of a colorful era and also the end of the town's dreams of future growth.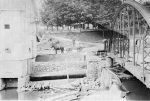 The need of a railroad to transport the products of the local industries to market was imperative. In the 1860's and 1870's, Hubbardston businessmen and farmers of the community contributed heavily to bring a railroad to that area. Organizations were formed, and thousands of dollars of stocks purchased in lines seemingly interested. One, west of Hubbardston, farmer, Thomas Cusack stated that he alone had invested over $10,000 in the undertaking.

Negotiations with the Marshall Coldwater line appeared so promising, during that period, that the Hubbardston Lumber Co. built a steam mill at a cost of $31,000, increased its output to 40,000 bd. ft. daily, and put on a force of 40 men. With much of the grading completed along the route, (traces of which are still discernible in the Hubbardston-Matherton area) the promoter died, the project failed, and the interest of Eastern capitalists in Hubbardston's future declined. Valiant efforts continued-influence, political pressure plus money-Hubbardston still was determined to have a railroad. In 1869, the township, of North Plains, contributed $10,000 in an effort to interest the Jonesville, Marshall and Grand River Railroad in building a line, and a year later $25,000 to the Westphalia, Hubbardston and Northern Company, plus $40,000 in private subscriptions-but nothing materialized.

In 1874, in an effort to lure manufacturing interests to the area, the Hubbardston Water Power Co. constructed the Upper Dam at a cost of $15,000. Land, now the Langdon farm, was laid out in lots, C.K. Bennett started a thriving Handle Factory on one of the sites-but the Water Power Co. failed and their ambitious project never succeeded. The same year, the big Wilson Homer sawmill was sold to Cuddeback and Corey. They operated it until it was destroyed by fire in 1879.

The boom was over. Hubbardston's dreams of a bright future ended. Came the 80's and 90's-lumbering and milling operations continued, but on a smaller scale. The foundry, the sash and blind factory and Bennett's Hankle Mill stayed in business, for a few more years, but population of the town decreased-the colorful lumbering era was nearing an end.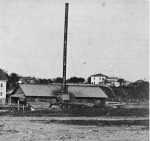 The Middle Years

Life in the 80's and 90's and early years of the twentieth century may have lacked the color and drama of the lumbering era-the huge log drives and the annual invasion of the lumberjacks came to an end. However, these were good and nostalgic years in the history of the village.

Yellowed copies of the Hubbardston Advertiser reported not alone the local news but also activities taking place in the neighboring towns. In April, 1874, folks flocked to a Lyceum in Pewamo to hear a debate on The Rights of Women to Vote. There were more speakers to advocate the affirmative than the negative and the discussion continued until midnight. The Carson CIty correspondent reported that 54 new homes were under construction in that village during the Spring of 1874.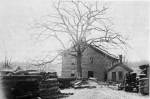 Hubbardston items noted that the town had a new sign, carriage and house painter-John Schoeni, with his shop located over Melow's blacksmith shop. J.A. Salyer was agent for the Weed Sewing Machine-needles and findings constantly on hand. The Hubbardston Exchange Bank, with Banker N.B. Hayes, the Cashier, E.B. Percival, stated that drafts, and passage tickets from all parts of Europe were obtainable at the bank-and, doubtless, many were the hard earned dollars deposited to bring relatives over from the Old Country.

Wm. Carnahan was operating a stage route from Carson City and Hubbardston to Pewamo, with trips daily. P.R. Cleary, who later went on to establish Cleary Business College in Ypsilanti, was conduction Penmanship School, in the village. The Sash and Blind factory had diversified their operations-they were now making churns and beehives.

Social, civic and fraternal organizations flourished during the last decades of the 1800's. The Hubbardston Reform Club, devoted to the cause of temperance, had been organized in 1877, and had a membership of 100. Tuscan Lodge No. 178, the Hubbardston Fire Company No. 1, Fire Engine and Hose Cart Company, in 1879.

The Union Hall (heated, lighted and seating capacity 400) built prior to 1874, on the corner of Main and E. Washington, where the Standard Station is now located, was the scene of many gatherings from temperance lectures to home talent plays. Some time in the early 80's, just a week before the Hubbardston Fair, the building burned. With a dance and other events scheduled for Fair Week, something had to be done! Townspeople and farmers rallied around, work bees were organized. A new hall, a block east on the south side of Washington Street, was built and readied for use in less than a week! The building, some years later, was moved a block north on Hanover Street, then, a few years ago, to its present location where it serves as Township Hall.

The Central Fair Association was organized in 1871. Twenty acres, east of town on what is now the Bozung farm, were purchased, exhibition buildings and a grandstand erected-from 1871 to 1893 the four day fair, staged in early August, attracted hundreds of visitors from a four county area. Exhibits ranged from farm machinery, live stock and merchants' displays to flower, china paintings and the work of local artists. Church organizations served dinners, there were rides and side shows, while horse races and ball games thrilled the grandstand audiences.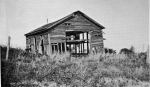 Two miles northeast of the village, during the same era, a rural group, including the Lockes, the Ludwicks, the Goolthrites and Latimers, had organized the Lebanon Literary Club. Across the highway from the present C.S. Langdon home, a hall, complete with stage, was built. The home talent plays, medicine shows and other entertainments held there were well attended, with groups of teenagers from the village often walking out to enjoy the events.

In 1892, a group of civic-minded women met to organize a public library. Mrs. Kilpatrick was first President of the Ladies Library Association, and, with the $25.00 subscribed by the group, it was voted to pruchase an assortment of books, from Montgomery Ward.

After the Congregational Church group disbanded, the church building was purchased by the Library Association and the structure christened the Library Hall. The library occupied the first floor, the second story was converted into a theater used for community entertainments and visiting stock companies.

Funds for the purchase of books came from annual membership of $1.00, community suppers, queen contests and other civic projects.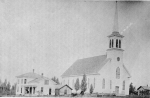 Following the burning of the Methodist Church, in 1922, the building was sold to the Methodists and a small store in the downtown area purchased for use as a library. 1924 officers of the Ladies Library Association were: President, Mrs. Corey Patrick; Vice Presidents, Lena Townsend and Ella White; and Treasurer, Mrs. Elfa Gardner. To raise funds, that year, townspeople staged a minstrel show. C.S. Langdon was interlocutor, endsmen included Robert Parmalee, Wendell Drouyer, Walter White and George Fenn, with the Misses Velma Leach and Violet Scutt also in the production.

Librarians before the 1930's included Mrs. Lena Townsend, Ruby Harris and such teenagers as Alice Langdon, Eleanor Cook, Helen and Ann Cusack and the Hatfield girls. The task of checking out books, Saturdays from 1:00 until 5:00 was not remunerative-librarians received twenty-five cents for the afternoon's work. In the 1940's the library found another home, the rear of the Post Office where Postmaster, Harvey Allen now serves as Librarian.

During the 60's and 70's, Hubbardston became a mecca for those suffering from rheumatism and other ailments. From all parts of Michigan people came seeking the healing waters of Hubbardston's famed mineral baths. Several springs, heavily impregnated with minerals, especially iron and sulfur, were to be found in the area. One, designated on a 1870 county map as, Russells Mineral Springs, was located on Fish Creek, west of what is now the Norman Goodell farm. Several other springs were in the village proper, including the flowing well on the town's four corners, one in the present grist mill, and a third near the C.K. Bennet sawmill. Who the promotors were is not drawn, but a bathhouse, (later to become the G.A.R. Hall) was built and provisions made for patients "to soak their aching bodies" in deep copper-lined tubs, and to drink the healing water. Local maidens, too, patronized the bathhouse going there, Saturday afternoons, to shampoo their hair, then weather permitting, strolling about the streets while it dried.

Lyle Bennett, long time resident, recalls that even into the twentieth century out-of-town people would, occasionally, come to Hubbardston, put up at the Hotel Grande and make several trips daily down to the Bennett sawmill to drink their fill of the mineral waters. Also in the 20's H.B. Slocum, owner of the Hubbardston first mill, was contacted by an out-of-town group, who contemplated converting the mill into a bathhouse. Nothing came of the venture-but who knows what may happen in the future!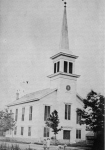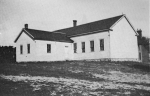 Twenty-one pounds of brown sugar at Holbrook's store, two pounds of steak for twenty cents, or would you believe, eighteen pounds of unground coffee for a dollar-such were the prices quoted in an 1887 issue of the Hubbardston Advertiser.

McGuffey Readers and The Youth's Companion; top buggies and fast stepping horses; Brussel carpets, lace curtains, parlor organs and hard coal stoves; bustles, fascinators, and high button shoes-nostalgic reminders of Hubbardston's middle years.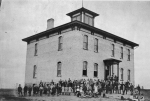 They Build Churches

St. John, The Baptist Church

They had a dream. Poor, politically oppressed and literally starving, they were sustained by that dream-to leave Ireland and journey to America, land of promise-to share in the freedom and opportunities of that land across the sea. And that dream came true-they left the green fields, the lakes and streams of Meath, Tipperary, Monaghan and Kilkenny. Full of hopes, mingled with fears, they came to America.

Only briefly did they tarry in the East. They made their way westward to Michigan, to North Plains township, in Ionia County, where that fellow countryman John Cowman, in 1849, had already established a home on Section 11, a short distance west of Hubbardstion. John Cowman assisted these newcomers, the Welchs, the Cusacks, the Hogans, the Beahans, the McKennas, and the Roaches, located farmsteads and build their first log cabins.

But something was lacking-a church, a pastor, religious services-how to carry on the faith of their forefathers. That dream, too, came true when in 1851, Father George Godez, an Austrian-born priest, ministering not only to the German settlement, at Westphalia, but also serving as the only priest in a hundred mile area of Central Michigan, visited the Irish Settlement, in North Plains township for the first time. The seven families by ox-cart and over rude trails through the wilderness, came to the Cowman cabin and attended the first Mass solemnized in that locality.

The visits of Fr. Godez were not on schedule, but four times that year, this missionary priest clad in black, and always a tall silk hat, visited the little community. Word of his arrival spread rapidly. There was scurrying to bring the newborn for Baptism, Mass was celebrated, with an opportunity for Confessions beforehand, the sick were visited and he was on his way again.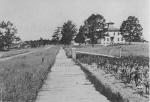 In 1853, another dream was realized-a church of their own A rude chapel in the wilderness, built on the Cowman farm, a mile west of Hubbardston, first village in North Plains. Short distance away their parish cemetery, soon to be dotted with the graves of these who failed to survive the rigors of a harsh new land.

Visits of Father Godez and other missionaries were irregular and seldom on the weekend but those Irish forefathers of ours, nonetheless, held Sunday services. THey gathered together in that little chapel and participated in the recitation of the Rosary led by parish elders, John Cowman or Thomas Cusack.

By 1855, a few more families had become a part of the community and a parish was formed, designated in diocesan records as, Saint John, the Baptist, on Fish Creek, and Father Charles Bolte, from Corunna, who later founded S.S. Peter and Paul parish, in Ionia, took over the guidance of the new parish.

The little chapel, enlarged several times, was too small. So, in 1868, under the direction of Fr. Bolte, a new church was built. Not on Section 11, site of the original building, but on a hill overlooking the village and river. It was an imposing edifice, the first Catholic Church and largest building in Ionia County, built at a cost of $8,000 and seating over 400 persons.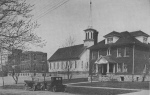 According to Wm. M. Fox, of Ypsilanti, his mother, Julia Ryan Fox, and Julila O'Connell Roach were the first babies baptized in the new church. Prior to 1869 records of baptisms, marriages and deaths of St. John, the Baptist parishioners were filed in the home parishes of the visiting priests. First recorded Baptism in the local parish records was in 1869 when Fr. DeBever christened Catherine Donney, daughter of Patrick and Catherine Ryan Donney, with Michael Cowman and Margaret Thomas as God parents. The first recorded marriage was that of James Doyle and Ida Irving in 1871, and first recorded death, in 1875, was that of Mary Ann Cahalan. 1875 is also the earliest record of a First Communion and Confirmation class.

Poor the parishioners were. There were crop failures, and mortgage payments to be met. But they paid their pledges for the new church, even if it meant the father having to leave the family and go into the north woods to work as a lumberjack for a few months to earn the money. Such sacrifices only increased the parishioners pride in a new edifice. They had a spacious church, fine pews and walnut wainscoting, towering altars-another dream come true.

Came, during these early years, a succession of pastors, all dedicated to the spiritual and temporal welfare of the parish. First resident pastor in 1869, Father William De Bever. Elderly and feeble, cane in hand, he plodded through the wilderness ministering to his people. Then, in 1871, came Father R. O'Brien who replaced the little cottage, later the Arza Clark home, a short distance from the church and used as the pastor's dwelling with a new rectory.

Father O'Brien was followed, in 1875, by Father Peter deSmedt who for seven years ministered to an ever-growing parish, for by that time such families as the Phelans, Graces, McDermotts, Hallarans, Bolgers, McBrides and McGuires, had followed the first Irish settlers to the locality. Called to Cheboygan to serve the French and Indians in that area, Father deSmedt was succeeded, in 1882 by Father Royanane.

Energetic and zealous, Father Royanane, in three brief years, accomplished much in the way of parish improvements. He erected the 156 ft. church steeple and installed that golden-throated bell whose mellow tones can still be heard over the country side.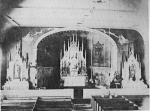 "The day they hung the bell"-and the parishioners rejoiced! THe massive bell had to be hauled from the Pewamo railroad station by teams of oxen. Men of the parish carried it into the church and up the aisle to be blessed-then back to the rear of the building to be hoisted into the steeple.

A new cemetery, adjoining the church was laid out and dedicated in 1884 and in 1886 the parochial school was opened. Church trustees at that time were: Thomas Welch, John Cahalan, John Hogan, and Nicholas Roach. A Seminary Report published during that era notes that solicitors Thomas Hogan, Julia Cahalan, Ceclia Eagen, John Cowman, Anastatia Roach, Elizabeth Cusack, Mary O'Connell and Mary Hallaran collected $72.00 for the education of priests for the Diocese of Detroit.

From Saint John, the Baptist parish 38 members have chosen the religious life, fifteen priests and twenty-three nuns. They were:

Fr. Timothy O'Connell, Fr. James Cahalan, Fr Henry O'Neill, Fr. Wm. Hayden, Fr. Jaames O'Brien, Fr. John Needham, Fr. James Welch, Fr. Dennis Needham, Fr. James Fitzpatrick, Fr. Robert Rock, Fr. Thomas Beahan, Fr. Bernard Beahan, Fr. James Cusack, Fr. Bernard Schafer, Fr. James Bozung.

Sisters

Madam Matthews-Ella Matthews, Sister Mary Raymond-Bridget Loftus, Sister Mory Louise, O.P. -Margaret O'Neill, Sister Mary Wilfreda, O.P-Elizabeth O'Neill, Sister Mary Fidelis, O.P.-Anna O'Brien, Sister Mary Thomasine, S.C.-Marie McQuillan, Sister Mary Alice, O.P.-Anna Mabner, Sister Mary Anne, O.P.- Margaret Mooney, Sister Mary Leona, O.P.-Bridgett Mooney, Sister Mary Leonissa, O.P.-Julia Mooney, Sister Mary Benedict, S.C.-Catherine Mooney, Sister Mary Kyron, S.C.-Nellie Mooney, Sister Mary Martin, O.P.-Catherine Feyhan, Sister Mary James, O.P.-Mary Burns, Sister Mary Rosita, O.P.-Marie McKeone, Sister Mary Kyran, O.P.-Ella O'Connell, Sister Marie Claire, O.P.-Mary Beahan, Sister Thomas Ann, O.P.-Dorothy Berg, Sister Mary Laurentia S.S.G.-Mary McMillan, Sister Mary Alicia S.S.G-Alice Rogers, Sister Mary Patrice O.P.-Julia O'Brien, Sister Mary Richards S.S.G.-Martha Couzzins, Sister Phillip Mary O.P.-Lois Ann Schaeffer.

Father Royanane was succeeded by Father James Landers. His family accompanied him to Hubbardston, his mother as housekeeper, his father to serve as janitor, and two young nephews. Father landers was a gentle and deeply spiritual man, whose example, during his pastorate, inspired a number of sons and daughters of the parish to enter the religious life.

1893 marked the silver jubilee of St. John, the Baptist Church-a gala celebration attended by neighboring clergy and proud parishioners. An address, written by Seminarian, James Cahalan, and delivered by John Hogan paid tribute to the indomitable courage of loyal parishioners and those dedicated pastors who had made a dream come true-they had founded a church in the wilderness. The seeds sown by faithful priests and pious parents would bear the fruit in the years to come.

Following the death of Father Landers in 1902, Father J.J. McCabe was pastor. His fourteen years, as spiritual leader, were ones of growth. Three high school grades were added to the school. These years witnessed also the subdivision of the northern half of the parish to become Saint Mary's of Carson City and the formation to the south of the neighboring St. Joseph's in Pewamo. A new rectory, too, was built in 1907.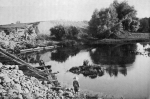 Let us not forget the social life of the parish-such events as the church picnics, first held in Roach's woods and later in Langdon's Grove, the duck dinners put on during the years of the Hubbardston Fair, the winter bazaars, card parties, home talent plays, and, of course, gala St. Patrick's Day celebrations-all links drawing parishioners and pastors closer together and building funds for further parish improvements. Cherished memories of work and pleasure shared in the days when there was still time for good fellowship!

Father McCabe was succeeded, in 1916, by Father John M. Doyle-forceful, dynamic and enthusiastic. He served the parish well during the years of World War I-the years that saw the building of a new school and the addition of the 12th grade. They were the years of bond drives and other fund raising activities with Hubbardston always "over the top", achieving more than its quota. These were the years, too, of the dreaded flu epidemic, with no Sunday services held for six weeks, and services held in the school chapel, throughout the Winter, because of the national fuel shortage.

1917 marked the dedication of the new school, built at a cost of $14,362. That year, too, the blessing of the parish service flag-a flag bearing 27 stars, representing the parish young men in the service of their country.

1918-a memorable year, the celebration of the church's golden jubilee-an occasion attended by 40 members of the clergy, including Father Bolte, the first pastor, retired and living in Monroe back.

The 20's and 30's were years of further growth under those good pastors, Fathers E.J. McCormick and William J. Flanigan. Those decades saw the erection of a new convent in 1927, at a cost of $20,350, modernization of other church property, and redecoration of the church. Minor improvements perhaps to the outsider but all a source of genuine parish pride-constant progress and much accomplished, despite the Depression years.

The older generation cherishes fond memories of those pastors here before the turn of the century. Fr. McCabe, ardent sportsman and owner of one of the first automobiles, in the area, a little red Maxwell roadster-enthusiastic and always friendly Father Doyle, gentle Father McCormick with his flute, violin and appreciation of all the artistic and finer things of life, Father Flanigan, the eloquent orator, always zealous for the salvation of souls entrusted to his keeping.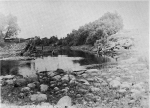 Father Eugine R. Fox, pastor of Saint John, the Baptist since 1938, has carried on the dream, ministering spiritually to the flock and attending well, to the temporal aspects of the parish operation. Modernization of the church, including new pews, altars and pipe organ, an addition to the school building, at a cost of $91,000, landscaping the parish grounds, all accomplished during Fr. Fox's pastorate.

And what of St. John, the Baptist, parish in the 60's? Tempo of life has changed, the pace more hectic than a generation or two ago. Parish makeup, too is different, a blend of many nationalities rather than solely Irish. People no longer devoted almost entirely to agriculture, but many, today, employed in nearby industrial plants. The parochial school, because of lack of teachers and educational changes, reduced to six grades. Wooden hitching posts, and the old church sheds, that once housed teams of oxen, or spirited driving horses, replaced by a parking lot crowded with Mustangs and Impalas.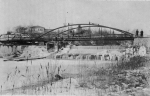 The future we cannot foresee. But we remain firm in the conviction that the Faith brought by our forefathers over a century ago will remain. Rich in the memories of those pastors who shared the dreams, the hopes, the disappointments, the sorrows, the fears, aims and goals of their people-their names will live long in the community. Confident we are that the heritage passed on by that little group of valiant Irish who carved a parish from the wilderness so long ago will remain. The Faith of our forefathers will grow and flourish; those Irish names will continue; memories of the days that used to be handed down to future generations-we will carry on that dream of a century ago.

Today's parishioners entrusted with the task of carrying on the activities of Saint John, the Baptist, church as it goes into its second century of spiritual and material growth are: Kieth Clark, President of the Men's Club; Treasurer Jack Fahey; and Secretary Mark Schmidt; Agnes Cusack and Mrs. Michael Hogan serve as Co-Chairmen of the Circles, while the nine Circle heads are: Mrs. John Schaeffer, Mrs. Walter Steele, Mrs. Jerry Burns, Mrs. James Ward, Mrs. Wm. Dailey, Mrs. Thelmla Greenwalt, Mrs. Rex Harlow, Mrs. Eugene Russell and Mrs. Lawrence O'Connell.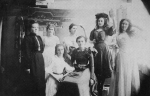 Hubbardston Methodist Church

Prior to 1854, Methodist services were held in various homes in Hubbardston, and, at that time, a class was formally organized to be part of the Matherton Circuit. In 1865, there is a record of re-organization with nine members. The first pastor on record was Nathan Mount, who served from 1863 to 1865.

Services were held in the village schoolhouse until 1868, when a church seating 350, and costing $5,000 was built at the east end of Pleasant St. At the time the church was built, there was a membership of 130.

In these early days the pastor's pay was a little money, hay and oats for his horse, plus butter, eggs and other farm produce for his table.

Toward the close of the century, in 1895, the largest Sunday School on record, with an enrollment of 195 testifies to the growth of the church and the spirit of the people who founded it.

In 1920, while E.S. Phillips was pastor, the parsonage was built. Rev. Phillips designed it and helped with the carpenter work. Ira Peck was the head carpenter while another parishioner M.C. Goolthrite spent long hours on the project. It was, at that time, reputed to be the finest rural parsonage in the Conference.

On May 22, 1925, the parsonage garage burned, and the following day, lightening struck the steeple of the church. The building was destroyed but much of the furniture saved.

The present Church building, originally a Congregational Church, was at the time of the burning of the Methodist Church, being used as a library and theater. The Sunday following the fire, the Methodists met there, and eventually purchased it. On Nov. 14, 1926, after much remodeling, the Church was dedicated. All this happened during the ministry of James A. Brown.

Forty ministers have served the Hubbardston Methodist Church-this does not count the men who preached for the group before the first class was organized.

In February 1966, Rev. Albert Rill, pastor at that time, was moved to Lakeview, and the local church, for many years tied to Palo, became united to the Carson City Methodist Church and the Hubbardston parsonage without a resident pastor for the first time in over 70 years.

In the 1950's an informative history of the Methodist Church was written by Mabel Goolthrite Langdon. Lack of space prevents its entire publication in the Centennial History. But the following items from her history portray the struggle of establishment, and the years of growth of a Church founded nearly 120 years ago.

Land for the original church was given by Mr. Homer, of the Hubbardston Lumber Co. He also donated the land for the Congregational Church and the Village Park across the street from the Church.

Early records of the church were destroyed in 1884 when the books of Board Secretary L.W. Robinson, and kept in his store, were burned in a disastrous fire that swept the business district of the village.

Finances in those days were a problem-solved by tithing, subscriptions and special collections. An 1887 issue of The Hubbardston Advertiser reports the raising of a subscription to build a sidewalk in front of the parsonage on Hanover Street.

'Twas the time when Church Stewards kept a sharp eye upon the erring brethren-some members were dropped for "willfully neglecting the means of grace", others were continued on trial, while one woman was informed she could not be accepted for membership unless she confessed or stood trial.

The matter of a satisfactory janitor was often mentioned in those early records. Minutes of a meeting, in 1893, specified the janitor's duties should include: "Open, light up and built all fires to warm the church, carrying in all the necessary wood, clean and fill lamps sweep the church on week days dust the furniture and pews, keep all the refuse, papers and other littering picked up. Ring the bell, as is customary, for all regular weekly and quarterly meetings. Thanksgiving and Christmas, and for all funeral occasions for church members including the tolling of the bell".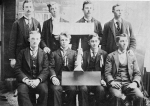 Colorful, energetic and dedicated were the 40 ministers who have served the church over the past century. N.W. Barnes had been an Indian Scout, under General Custer, and many were his stories of life on the Great Plains and up and down the Mississippi. Long before the days of Boy Scouts, he formed a boys' organization with uniforms and a fife and drum corps. And, for the enjoyment of Hubbardston youngsters, he erected an honest-to-goodness merry-go-round on the parsonage lawn. Annual camp meetings were a part of church life during Mr. Barnes' tenure. They were held at Long Lake, and Mr. Barnes erected and equipped a tent for the Hubbardston group.

Rev. Emerald Dixon, who came to Hubbardston, in 1914, felt that weekly church bulletins were so important that he walked to Carson City every Saturday to set the type and have them printed.

W.S. Phillips who served from 1915 to 1921 was The Builder-he not only drew the plans for the parsonage, but, handy with a hammer, he assisted in its construction. Scholarly James Brown, the Floyd Drakes, who went on to become Supt. of the Clark Memorial Home, energetic Park Newcombe, his capable wife and teen-age family, the Harold Homers and their triplet daughters-all were cherished in parishioners memories, and made a real contribution to the growth of the Church. Good ministers alone do not make a Church-important, too, the contributions, the missionary and social groups, the Sunday School teachers-credit to them all.

Gone are the Pecks, the Bolanders, The Latimers, the Chicks and Ludwicks, the Goolthrites, the Barkers, Ellis'es and Rogers-families who founded the Hubbardston Methodist Church-but today's generation, the Tabors, Braytons, Clovers, Langdons, Klipperts, Hendricks, Sibles, Sanborns, Proctors, Shinabargers and Babcocks, together with their present Pastor, Austin Regier will carry on.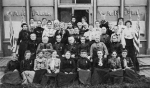 They Build Schools

The Hubbardston Public School

The Hubbardston Public School district was organized in 1856. The first school, a 2 room frame building, was located on River Street in the south west part of the village. In 1868, county histories note that there was an enrollment of 160 students and $656 paid in teachers' salaries. Few records of the school's early years are available, but, in 1870, another site, in the northwest part of town, had already been set aside for a new and larger building. There, a two story brick building was erected, in 1879, at a cost of $5,500.

1880 Board members were J.W. Tabor, Director, and Trustees, H.N. Brown, Robert Gardner, E.C. Reed, O.C. Townsend and Boyd Redner. Principal, George B. Holmes and the Misses L.C. Petrie and Lillian Smith taught the 150 students. Budget for staff salaries had increased to $1500.

The Nov. 3, 1887, Hubbardston Advertiser, published a list of pupils neither tardy nor absent. In the Primary Department they were: Edwin Proctor, Ruth Thomas, Edna Dunn, Irvie Grill, Fred Townsend, Arzie Clark, Allen Redner, Pearly Wheeler, Ethel and Joseph Bolander, Albert Hoge, Earle Reed, Allie Bennett, Ernest Moore, Jennie Parmeter, Ira Dunn, Etta Smith, and Edith Tyler. Intermediate non-absentees included: Vernon Barrone, Roy Day, Ida Rushford, Bessie Brown, Grace Frink, Annie Thomas, Winnie Chick, Willie Grove, Minnie and Fred Townsend, and Fred Tyler.

High School students named were: Ada Day, George Cuddeback, Robert Gardner, Amy Kilpatrick, Edwin Gill, Bertha Mitchell, Claire and Nellie Skentlebury, Ruby Reed, Lillian Wheeler and Eugene Townsend. Only two students, Bessie Browne and Illdia Lybolt landed on the Perfect Deportment List.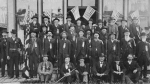 The January 5, 1888 Advertiser reported the resignation if Supt. J.W. Roberts. He was leaving Hubbardston to accept a better position, in Hastings, at $1,000 a year. Other early Superintendents were: Mr. Ellsworth, D.T. Crawford, John Reddout, and Frank Wood.

March 28, 1922, while Elwood M Brake was Superintendent, the school burned. The present building erected at a cost of $50,000 was dedicated, in April 1924-classes in the interim were held in the G.A.R. Hall and at the Methodist Church. 1924 School Board officers were: Charles Brunn, President; H.A. Tabor, Vice President; Treasurer Charles Ludwick; A.E. Clark, Secretary was also construction foreman of the new building. First year in the new school found N.J. Drouyer serving as Superintendent, Violet Scutt, Principal, and Elfa Gardner and Patience McGinn teachers in the elementary grades. Miss McGinn, beloved by three generations of students, taught the elementary grades in Hubbardston's Public School for over 40 years.

Later Superintendents included: Harold Hanson, Melvin Blanchard, Keith Sikkema, Mr. Houseman, Wm. Barrett, Hugh Sissong, and Robert Light. The High School grades were dropped in 1942. Present school enrollment is 88 students in five grades, with teachers: Mr. Jesse Powell, Mrs. Florence Sible, Mrs. Alice O'Conner and Mrs. Catherine Ranger.

St. John, The Baptist School

Parish records differ as to just when St. John, the Baptist parochial school came into being. Was it 1853 or 1858? At any rate, it may well have been the first parochial school in Ionia County. The school, in its earliest years, was maintained only a few weeks annually for pre-Communion instruction and with classes taught by the pastor. When regular elementary grades were introduced, lay teachers took over the teaching duties. Among others, these early instructors included: "Professor" Floyd Flood, John O'Brien, Nellie Kennedy, Mary T. Hogan and Patience McGinn.

In 1886, the former public school, located just across the street from the church, was purchased and three nuns of the Dominican order, Racine, Wisconsin arrived to take over the instructional duties. They were Sister Mary Corona, Sister Mary Aquinetta and Sister Mary Ann. Sister Aquinetta taught the upper elementary grades from that time until 1916. Dedicated members of the Dominican community, in unbroken succession, have taught the children attending the parochial school for 82 years.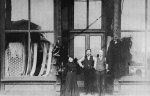 John D. Hogan, 91, and one of the oldest members of the parish, vividly recalls his attendance at the parochial school in the 1880's. No school bus, in that era, so it was a 3-1/2 mile walk to school. There were 21 Hogan boys in the neighborhood, the sons of Dennis, Patrick and Cornelious-quite a crowd they made swinging off to school frosty Winter mornings. He recalls also the daily trips the "Big Boys" made to the spring on the river bank to bring back the school's drinking water. He remembers also the last-day-of-school programs when every student was required to sing, dance or present a recitation, and the names given Sisters Corona and Aquinetta-"Big Sister" and "Little Sister".

In 1903, three high school grades, with Sister Mary Mathias, as Principal, were added to the eighth grade parochial school. 1907 marked the graduation of the Misses Bertha O'Brien, Bertha Welch, Elizabeth McKeone, and Emilene Sullivan.

1917 graduates, according to the Church Report of that year were: Rose and Lillian Kane, Martha Sammon, and Thomas Beahan. 80 students were enrolled in the school and their teachers were Sisters M. Fulgence, Celestine, Damian and Joan.

1917 saw the building and dedication of the new school, a modern two story brick structure located south of the church, where the first parish rectory once stood-its bell one that formerly hung in the Congregational Church.

A full four year high school course was added that year with Miss Helen Barrett being the only member of 1919's Senior Class.

School enrollments grew rapidly during the 30's and 40's, one grade had to be transferred to a class room in the parish hall and, eventually, it became necessary to build an addition to the school. This was completed, in 1961, at a cost of $91,000. In 1964, the four high school grades were dropped with students transferring to the Carson-Crystal Area or Pewamo-Westphalia High Schools. The school's enrollment in 1968 is 78 students in six grades and the teachers are: Sister Thomas Aquinis, Sister Louis Bertram and Sister Mary Alberta.

They Came From the East

Land and money they may have had back East-but lured by the promise of greater prosperity in Michigan, its cheap land and booming lumbering industry, they came to Hubbardston. The Cuddebacks to manage the mill of Hubbard, Taylor and Co., the Holbrooks to engage in the mercantile business, the Townsends to establish a sash and blind factory, the Stucks a foundry and the Homers a grist mill. They prospered and their glowing letters to friends and relatives back East brought others-some to farm, others to establish a business in the rapidly growing village of Hubbardston.

Some of those early settlers with descendants still residing in the area include:

Luther B. Peck was born in Mass. in 1843 and came to Hubbardston as bookkeeper for the Hubbardston Lumber Co. in 1865. He married Fanny Colby, daughter of Harrison Colby, a blacksmith and preacher, who had come to the area in 1859. The Luther Pecks had 4 children, Gertrude, Harry, Ira and Iva. Ira Peck, last of the family, is now a resident of the Clark Memorial Home, in Grand Rapids.

Wm. P. Brayton, born in New Haven, N.Y. settled on a farm in North Plains township, in 1853. His wife was Helen Harter Brown, children in the family were: Ellen Brayton Hitchcock, Abbie Brayton Townsend, Byron Brayton and stepson Wm. Brown. Always a staunch Republican, Mr. Brayton cast his first vote for Wm. Henry Garrison. A great granddaughter, Josephine Brayton, teacher in the Pewamo-Westphalia School, and great, great grandson, Wm. Brayton still live on the original homestead.

Wm. Mason Smith and his wife Orrilla (Wells) of Arcadia, N.Y. came to the Hubbardston area in 1865. The family farm, northeast of Hubbardston, is now the home of Roy and Ellen Sanborn. Emma Smith, one of the five children in the family, married Myron Goolthrite, while two descendants of a son Wm., are Harold Smith of Hubbardston and Marjorie Smith, of Lansing.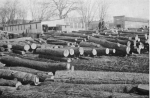 From Howell, Michigan came Charles K. Bennett, his father Justice Bennett was Livingston County's first sheriff. C.K. Bennett married Edith England whose family came from Quebec to Hubbardston, soon after the Civil War. Mr. Bennett was identified with the lumbering industry throughout his life. He operated a Handle factory near the Upper Dam in the early years, then together with his son, Lyle, a saw and planing mill, with hard wood interior trim and general wood working a specialty. C.K. Bennett died in 1920 and when the water power rights were sold to Consumers Power in 1921 the mill was discontinued. Lyle who had one of the first silver fox ranches in the state, still resides in Hubbardston, and his sister, Allie Morhardt lives in Detroit.

Born in Grandhurst, England, in 1843, James Chick and his wife, the former Harriet Cronkite, came to Hubbardston in the 1860's and settled on a farm, just west of the village. They had one daughter Winnifred and two sons George, and Fred S. who married the former Nellie Brayton, members of their two son's families George and Howard now live in the Maple Rapids Vicinity.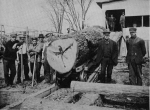 Another early resident was Samuel F. Cranson. He was born in New York State in 1825 and his wife was the former Mary Pusey. Children in the Cranson family were Charles, Stephen, Fred, Bernice, Nettie and Bina. Mrs. Lillian Chick, Maple Rapids is a granddaughter.

Wm. S. Lattimer, born in Orleans County, N.Y. in 1810, came to Michigan and settled near the Round School in Lebanon township, Clinton Co. He had four children, two sons and two daughters. One son, Albert, was born in 1856 married Susan Goolthrite in 1882. Their farm, a mile east of Hubbardston, is now a Centennial Farm and the Summer residence of their son Irving E. Lattimer.

The Goolthrites, Orrin and his wife Angeline came from New York's Jefferson County to the Hubbardston area in 1854, on to Bloomer township, Montcalm Co. for a few years, then back to Lebanon township east of Hubbardston in 1865. Their daughter, Susan married Albert Lattimer. A son, Myron, took as his bride Emma Smith. Their daughter Mabel, married Charles Langdon, and their daughters Dorothy Yates and Louise Brown are residents of Midland and Detroit.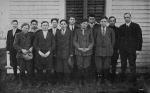 Apparently there was also another branch of the Goolthrite family in the area, since Lucy Holmes, daughter of Ransom Holmes, early owner of the Hubbardston Grist Mill, married a Byron Goolthrite. Their daughter, Mrs. Albert Hoge, still resides between Hubbardston and Carson City, and she recalls that three sisters of O.C. Townsend married three Goolthrite brothers.

Charles L. Stuck came from New York State in the early 1860's to operate a foundry in Hubbardston. After two disastrous fires he abandoned the foundry and established a cabinet shop and buggy business and also Hubbardston's first cider mill. This operation was later carried on by his son, Charles, who was born in Hubbardston, in 1869. Married to the former Minnie Townsend, their two daughters, Flossie De Byle and Lottie Cranson still live in the area, Flossie, in Grand Rapids, and Lottie in Grand Ledge.

Among the very earliest residents were the Holmes brothers, Nathan and Ransom, who in 1856 built and operated the Hubbardston Grist Mill. The Holmes residence is now the home of Miss Clara Hogan. The business was later carried on by Nathan's son, Elbert. THere were three daughters in the ransom Holmes family, Ida, Lucy and Myra. Lucy Holmes Goolthrite's daughter, Mrs. Ethel Hoge, is one of the area's long time residents.

From the east to later operate the grist mill came H.B. Slocum, his wife, a son, Henry, and daughter, Anna. Their descendants, Mrs. Lucy Slocum, wife of Henry and sons, Virgil and LaVern, and Keith Clark, son of Arza and Anna Clark still reside in the village.

David Porter Weeks came to Hubbardston from Watertown, Mass., in 1855. He was co-owner of the first general store in the village, Hunter and Weeks, and also served as early postmaster. Married to Eliza Darby, they had four daughters, Julia, Harriet, Carla and Francine. Julia became wife of Ralph Hoge and their son Albert 89 still resides in the Hubbardston vicinity.

Owner of the Avery House, one of the town's first hotels, was William Avery. His daughter, Sarah, married Henry Barrone. The Barrone's had four sons, Vernon, Earl, Arthur and Elmer.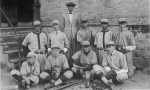 Wm. P. Dodson and his wife Rachel McDermond Dodson came to Hubbardston in 1880. He worked in the John Cowman store for eleven years, then, from 1900, until his death, in 1920, operated a meat market in the village. The market was then carried on until 1928 by his wife and son, Wm. L. Dodson. In 1928, a restaurant and lunch counter replaced the market and was concocted by Wm. L. Dodson until 1951. The building believed to be the oldest structure in the downtown area, is now the Dodson residence.

The Roderick Tabors came from New York state, their son Charles married Amelia Schoomaker who was born on the parental farm a mile north of Hubbardston in 1860. There were four sons in the Charles Tabor family, Fred, Charles, Henry and Frank. The Centennial Farm is still operated by members of the Henry Tabor family.

James Holbrook was the town's first postmaster and co-owner of the first store in the village, as well as one of the operators of the Homer Holbrook and Co. grist and sawmill. His son Harry J. Holbrook served as Ionia County Clerk and was President of the Bank of Hubbardston from 1915 to 1932. A daughter Harriet Holbrook Scheaffer resides in Hubbardston, while her sister Helen is a Lansing Resident.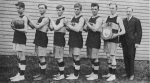 They Came From Ireland

Questionnaires sent to descendents of the first Irish settlers, in the Hubbardston area reveal that nine of the early families came from Ireland's Tipperary county, four from County Louth, three from Wexford, two from Monagham and one each from the counties of Mayo, Caven, Kilkenny and Dublin.

From County Louth, the parish of Cullen, came Henry O'Neill; Patrick Rogers, Dunleer, Mosstown; Andrew Cunningham and John Harden.

The three families from Wexford County were: the John Cowman's, Nicholas Roache's and Thomas Fahey's. From Monagham County came Matthew McKenna, with his wife catherine (Roach) of Wexford, and Michael Burns and wife Ann (Kelly) of Lough.

To Hubbardston, from County Mayo, came Patrick McIntyre, his wife the former Mary Ryan of Tipperary. The town of Lough, in Cavan County, was the birthplace of Thomas Cusack, while Thomas Welch came from Kilkenny, his wife Mary (Hogan) from Tipperary. From Dublin came Cornelilus Hogan and Dennis Hennelly from Cork.

Immigrants from Tipperary included Patrick Beahan, and his wife Margaret (Ryan), John Cahalan, John Coonan, Thomas Fox, the parish of Lorrha, and wife Ann (Whalley), parish of Montsea, Thomas Hogan of Arocrony, Patrick Hogan, Michael O'Brien, James O'Brien, and Mrs. Needham and five small children from the parish of Neenah.

Nine weeks on a leaky sail boat it took Patrick Rogers to cross the Atlantic, in 1850, while 16 year old John Coonan spent 6 weeks on the ocean. The Dennis Hennelly's, lacking money to pay the passage for one of their children, smuggled him aboard as a stowaway, while the youngest of their three sons died, enroute to America, and was buried at sea. Courage and fortitude had the Widow Needham, who left Neenah with her five small children and set sail for America, as ded John Harden who journeyed to the New World with his motherless family of three.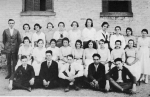 Most of the families appear to have landed in New York rather than at the Canadian ports of disembarkation, used by earlier waves of Irish immigrants. Michael Burns arrived in Canada, in 1853, but shortly made his way to Rochester, N.Y., where he lived for several years before coming to North Plains. The John Fitzpatrick's came first to Canada and purchased land in Ontario, only to discover that their farm consisted of a thin layer of soil over solid rock. They moved on and settled in Lebanon township, east of Hubbardston.

LeRoy, Rochester, Caledonia, Livonia, Livingston - New York state towns and villages where our Irish forefathers tarried for awhile. They worked on farms, helped build canals and railroads. Many of the young men found wives there, daughters of Irish families in that area - Andrew Cunningham and Elizabeth Rogers, John Cahalan and Mary Needham, Henry O'Neill and Elizabeth Callan, Thomas Cusack and Ann Keenan.

Life was hard - wages low, but painfully they accumulated a bit of money. Some of that money went to bring other members of their family to America. Bridget O'Connor (Rogers) worked for a dollar a week, her brother, Patrick, for Eighteen dollars a month, until they saved passage money to bring from Ireland their mother, two sisters, two brothers and a niece.

Others sdrimped and hoarded to buy land. When Patrick Beahan had accumulated a hundred dollars he purchased 40 acres, in Section 9, North Plain township, from Mrs. Elizabeth Blackmer, in Livonia, N.Y., and set forth for Michigan. The Thomas Hogan 80 acres was bought for $180 from Ira Bradish. When Nicholas Roach came to Hubbardston, in 1851, - his wordly wealth consisted of five dollars.

First money earned in America by Thomas Cusack was, after his arrival in 1848, when he received a dollar and a half, flailing wheat, three days, for a Livingston N.Y. farmer. To reach the Hubbardston settlement, in 1851, he came by train to Dewitt, near Lansing. That was as far as the railroad had been built - so he walked the remaining distance.

With $1,500 saved during his years in New York state and upon the recommendation of Hugh Matthews, a relative already living in Hubbardston, Michael Burns, his wife and four sons, came to the North Plains area and bought a farm in the vicinity of The Deer Lick, To eke out a living, he worked Winters in the lumber camps. Hard, indeed, was the life of his wife as she struggled to care for the livestock, deep the cabin warm, and feed seven hungry children.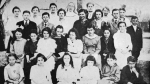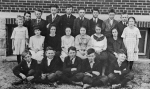 Hardships, cold and even hunger - a part of life for all those first settlers. The family larder nearly bare, Patrick Beahan, in the early 50's, set out afoot to Lyons, 9 miles away, with a bag of corn to be ground into meal. Enroute home, he spotted anad robbed a bee-tree. That night the Beahan's had a feast - Johnny-cake and honey!

By 1870, according to an Ionia County Atlas, some 50 Irish families, in addition to the ones mentioned above, were North Plains land owners. So, let us not forget such names as: Donovan, Navin, Connor, Handlon, Curry, Dwyer, Glynn, Sammon, Jordan, Leary, Marion, McDermott, Thomas, Cavanaugh, Sinnott, Nolan, Loftus, Cahill, Eagen, Herald, Barrigan, O'Mara, Hayden, Rooney and McGinn.

Alien in mode of life, and of a different creed than the villagers, were the families comprising the "Irish Settlement". But adjust they did to the ways of the New World. Hard work and frugal living resulted in prosperity for many of the families.

That first log cabin replaced by The Big House - white-painted, green-blinded, all of similar architecture - square upright and wing. A parlor complete with Brussels carpet, stiff lace curtains, and horse-hair furniture - the rag carpeted living room, two stairways, one to the quarters of the hired men, the other for the family, the pass-through window between dining room and kitchen, the well stocked buttery, the spring house with, perhaaps, water piped into a wooden tank in the corner of the kitchen.

Their shabby clothes replaced by black broadcloth suits, perhaps even plug hat and cane. The women blossomed forth in fine Paisley shawls, satin gowns and beribboned bonnets. Family transportation a spanking team and surrey, instead of plodding oxen - all signs of their growing prosperity and sophistication. America had been good to those newcomers to her shore - and they were grateful!

Irish Family Data

The following information, names of some of the earliest Irish settlers and their families, was obtained from returned questionnaires.


| | |
| --- | --- |
| Name of Parents | Their Children |
| Beahan, Patrick and Mary (Ryan) | Charles (adopted), Michael, Mary, Timothy, Matthew |
| Burns, Michael and Ann (Kelly) | Albert, Frank, Edward, James, Owen, Mary (Sister M. James), John |
| Cahalan, John and Mary (Needham) | James (Monsg. Cahalan), Patrick, Julia, Catherine |
| Coonan, John and Margaret (Droyer) | John, Julia, Mary, Margaret, James |
| Cowman, John and Mary | Richard, Mary, John W. Katherine |
| Cusack, Thomas and Ann (Keenan) | Peter, Patrick, Francis, Wm., Elizabeth, Mary Ann, George, Charles, Rebecca, Edward |
| Cunningham, Andrew and Elizabeth (Rogers) | James, Cecelia, Patrick, Mary, Thomas, Zita, Andrew |
| Fahey, Thomas and Catherine (Bolger) | Mary, John, Dennis, James, Catherine, Patrick, Julia |
| Fox, Thomas and Ann (Whaeley) | John, Mary, Thomas, James, Michael, Patrick, William, Margaret |
| Harden, John and Margaret | Michael, James, John, Marian, Thomas, William, Luke |
| Hennelly, Dennis and Mary (Callahan) | Margaret, Mary, Anna, Ella, Katherine, John, Dennis, Richard, Thomas |
| Hogan, Cornelius and Ann (Coonan) | James P., Patrick C., John D., Cornelius, Perry M., Thomas R., Mary Ann |
| Hogan, Thomas and Bridget (Gleeson) | John, Sarah, Thomas, Michael, Mary T., Margaret, Katherine |
| Hogan, Patrick and Bridget | Thomas |
| McIntyre, Patrick and Mary (Ryan) | Nancy, Julia, John, James |
| McKenna, Matthew and Catherine (Roach) | Mary, Bridget, Thomas, Patrick, Peter, Nicholas, George |
| McKeone, Philip and Elizabeth (Cusack) | James, Alice, Peter |
| O'Brien, James and Julia (Gleason) | James, Mary, William, John, Thomas, Margaret |
| O'Brien, Michael and Julia (Needham) | Mary, Anna, Julia, James (Fr. O'Brien), Patrick, John, Catherine, Joseph, Bertha |
| Roach, Nicholas and Margaret (Mylan) | David, Margaret, Mary, Anastacia, Nicholas, Patrick, Thomas |
| O'Neill, Henry and Elizabeth (Callan) | Henry(Fr. O'Neill), Eugene, James, Mary, Margaret(Sr. Louise O.P.), Veronica, Jennie, Mary C. Anna, Nellie, Elizabeth (Sr. Winnifred O.P.), Julia, Rose, Teresa |
| Rogers, Patrick and Bridget (O'Connor) | Julia, Thomas, Patrick, Richard, Matthey, William |
| Welch, Thomas and Mary (Hogan) | Thomas, Patrick, Sarah, Catherine, Julia, Margaret, Mary |
| Needham, Patrick and Mary | Eleven Children, including two priests, Fathers John and Dennis Needham both from Tipperary |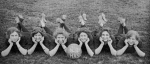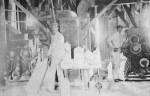 They Served Their country

In the years of the community's history, wars, three major conflicts and several minor ones, have occurred and, in all, Hubbardston's young men answered the call.

Sometime after the Civil War, the Hubbardston, A.G. Russell No. 234 Post was organized. Records dating back to 1884 have been unearthed. Object of the Grand Army of the Republlic voiced, in the minutes of the April 1885 meeting, by Post Commander, W.W. Brown, and Adjutant John Schoeni was : "First a social hour to lighten life's burdens and may all hearts be glad-in that, as far as we can make our friends and neighbors acquainted with the workings and principles of our noble order to the end that the exercise, by all, of fraternity, charity, and loyalty, our country may be one people, with one country and one flag."

Members of the Post, at that time, included: John P. Schoeni, Sgt. Major C.L. Stuck, comrade Richard Johnson, S.V. Rider, C.F. Wheeler, E.C. Reed, Post Commander, A.S. Harris, Ralph Hoge, Wm. Marlette, George Wernette, C.B. Howk, C.J. Proctor, A. Houston, M. Graham, H. Hitchcock, B. Redner, L.M. Garlick, A. V. Phister, H. Grove, A.M. Cook, H. Cook, C.K. Bennett (Post commander in 1890), Wm. Browne, (Post Commander in 1886), Amos Moore, Emerson Vance, C.W. Thomas, John Manning, N. Sessions, Wm. Burk, J.H. Bacheler, John Churchill, D.Dean and E.M. Allen.

Impressive Memorial Day ceremonies were held annually. their purpose, again in the words of Post Commander H.W. Brown, "The day in each succeeding year to the end that our dead comrades, who made their breasts a barricade between our country and its foes, should be duly honored in their death and their memory kept green in our hearts."

A yellowed 1885 Memorial Day program lists the following activities:


| | |
| --- | --- |
| 7:00 a.m. | Reveille |
| 9:00 a.m. | Decoration of Graves in Old Cemetery |
| 10:30 a.m. | Decoration of Graves in New Cemetary |
| 12:00 | Lap Social, Congregational Church |
| 1:30 p.m. | Parade |
| 2:00 p.m. | Program, Congregational Church |
| | Salute the Dead |
| | Band |
| | Glee Club - Recitation |
| | Orator of Day |
| | Requiem - Public Square |
| | Salute - 3 rounds |
| Sunset | Retreat |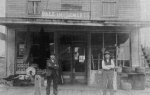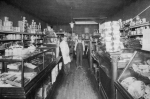 The Post purchased the mineral Bath House on East Washington St., as their meeting place, a Women's Auxiliary was organized and both groups were active until after World War 1.

One of the last G.A.R. Veterans remembered fondly by townspeople was Ralph Hoge, Deaf because of illnesses suffered while a guard at Libby Prison, he was able to communicate, afterwards, only by the writing of notes. A gentle, kindly man, his hobby, in later years, was the growing, and distribution of lovely flowers to friends and neighbors. While on duty at Libby Prison, he fashioned an oak and walnut gavel-it was used for many years by the A.G. Russell Post.

American Legion Walter T. Roach Post No. 182, named for Walter Roach C.O.E. 38th Infantry, who died in battle, October 11, 1918, was Organized Oct 11, 1919. First officers were: Post Commander Frank E. Tabor; Vice Commander Walter Brunn: Adjutant James Cowman; Post Finance Officer Leonard Reed; Historian Herbert Brunn, and Chaplain Otto Grill. Other charter members included Howard Cranson, William Roach, Ben Hogan, Leo Shiels, Carl Brunn, William Welch, Jack Welch, Leo Fox and Harold Smith.

First mililtary funerals were in 1920 for comrades James O'Neill and Harold Rice. Early activities, in addition to Memorial and Armistice Day observances, included organizing and sponsoring a town band, an independent ball team, the first Poppy Day Sale in 1932 and the sending of Robert Hogan to Boys' State as their first delegate in 1938.

The old G.A.R. Hall served as the Post's meeting place until the former William Langdon home was purchased in the 1940's. An active Ladies' Auxiliary was chartered in March 1934, and the two organizations have over the years sponsored many social and civic activities.

1968 American Legion officers are: Commander John M. Stoddard; Senior Vice Commander Clare B. Cunningham; Junior Vice Commander Douglas C. Campbell; Adjutant Edwin W. Bradburg; Finance Officer Phillip H. Vance; Historian Harold Smith, Chaplain Manuel Cusack, and Sargeant-at-arms Bernard McKenna.

Officers of the Women's Auxiliary of Walter T. Roach Post No. 182 are: President Geraldine Boomer; First and Second Vice Presidents Sandra Stoddard and Patricia Campbell; Sec.-Treas. Vera O'Grady; Historian Charlotte Cunningham; Sgt.-at-Arms Joan Ward; Poppy Chairman Thelma Greenwalt, and Mary Tait, Sunshine Chairman.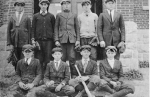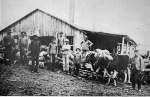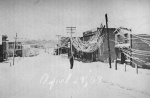 Hubbardston, Today Hubbardston-the first twenty-five years of the 20th century-"olden days" to the younger generation, but only yesterday to the long-time residents.

Cowman's Store, started, in 1872 by John W. Cowman and still a part of the Main Street picture, operated by Clifford O'Grady, stepson of C. Raymond Cowman. The Burns Hardware, owned by James W. Burns, who was also Hubbardston's mortician for half a century. Pat Fahey's grocery and Jimmy Cunningham's ice cream parlor, Mrs. Tabor's Millinery and the little shops of Ada Parr and Maria Kennedy. Mayme Shiels, bank cashier and Anna McGinn, longtime Postmistress-the town's first automobiles, 1906 Buicks, owned by Dr. Cook and Fred Brayton.

Tom O'Neill, mathematical genius, whose lightening fast calculations amazed Michigan educators-but Tom was never able to capitalize on his uncanny ability. He ended his years at the Ionia County Poor Farm.

Definite proof is lacking-but it could be that Hubbardston was the birthplace of a famous movie star. In the 1920's an old gentleman, who had resided in Hubbardston during the lumbering era, revisited the village. He boasted that he had a famous daughter-Mary Miles Mintse, blond star of Hollywood.

Hubbardston's Independent ball team, starring Spike Greenwalt, Fred Reimer and the Brunn brothers. The merchant-sponsored free outdoor movies, every Saturday night, throughout the Summer months.

That Summer afternoon, in 1918, when St. John the Baptist, 154 ft. church steeple was struck by lightning. Impossible to extinguish-so townsmen attached ropes to the structure and pulled the burning steeple to the ground. Those later fires, during the early 20's that destroyed the Chatterton Block, the Public School and the Methodist Church.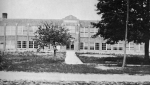 Chicken Pie suppers at the Methodist Church, the Catholic Winter bazaars, Chautauquas, the Price and Butler tent shows-cherished memories of the early 20th century.

Hubbardston today-population under 500, but with paved streets, efficient fire department, new store fronts and s scattering of recently built homes. Hubbardston-"bedroom town" for residents employed in nearby industrial plants-but also with a manufacturing business of its own-the Tefft Pallet plant that set up operations in 1967. After 24 years a bank of its own-Hubbardston branch of Clinton National Bank and Trust Co., opened in 1967. Other business places include: the O'Grady General Store, Hubbardston Hardware, operated by Ford Newman, Shinabarger's Garage and Repairs, the Standard Station operated by James Boomer, Floyd Luther's Barber Shop, the Beauty Shop of Joyce Schaeffer, Shields Tavern, started over a hundred years ago, the Lee Moore Village Tavern, the century old grist mill, owned by Walter O'Neill, State Farm Insurance Agent Richard Langdon, and Patrick Quint Cusack, Insurance and Real Estate.

Hubbardston-picturesque little village, its friendly folks, shaded streets and placid mill pond-with it well in the years to come-but cherish, too, the memories of Hubbardston's Yesterday.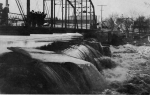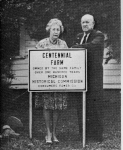 History of the Lattimer Farm

The Lattimer Farm at 7754 North Jones Road, a mile east of Hubbardston, now owned by Irving E. and his son, Dr. John Kingsley Lattimer and displaying a Centennial Farm sign, was inherited through the maternal side of the family, Susan Goolthrite Lattimer who inherited it from her mother, Angelilne Goolthrite, born Angeline King Townsend, November 10, 1833, whose parents were Warren and Mehitable Townsend, from near Watertown, New York. Angeline was brought up by her Uncle, Almon Townsend and his wife Chloe. On Februrary 18, 1852 she married Orrin Goolthrite, born in Wilna township, Jefferson Co. N.Y. November 13, 1822. In 1854 Angeline and Orrin Goolthrite moved from New York to Michigan, stopping at a friend's house in Matherton for two weeks and going on to Hubbardston, where they lived for two years fighting malaria. Then they bought and cleared land in Bloomer Township, in Montcalm County two miles of the then-non-existent Carson City, where Angeline pulled her end of a cross cut saw and had to contend with Indians who were numerous.

Here Susan Goolthrite was born in 1862.

In 1865, the family, including her older brother, Myron, came to live with Uncle Almon and Aunt Chloe Townsend in Lebanon Townshiip, Clinton County where Uncle Almlon built the large square house in front of which the Centennial Farm sign now stands. Here Susan Goolthrite married Albert H. Lattimer in 1882, and their only surviving child "Irvie" Eugene Lattimer was born August 28, 1888.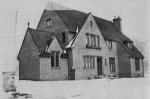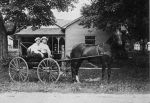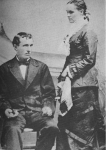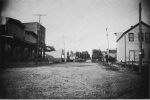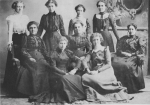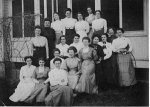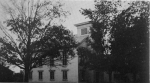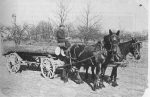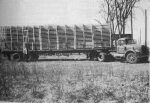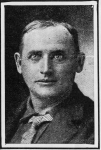 In the village of Hubbardston, Ionia County, Michigan, lives Thomas Carmel O'Neal, perhaps the most wonderful mathematical prodigy in the world. Answers to the most intricate problems appear to him instantaneously, as in a photograph. The discovery of his wonderful gift came to Mr. O'Neal in 1879, when he was twelve years old and attending a country school. Problems in mental arithmetic were solved by him without effort, and he quickly multiplied two rows of fifty figures each. Mr. O'Neal can reduce years and months to seconds, miles to rods, feet, and inches, etc., with lightening like rapidity. He takes twenty-five rows of figures, with one hundred figures in each row, and adds them as fast as he can write the answer. Then he multiplies the first and second row, that product with the third row, and so on to the termination of the twenty-fifth row. The final answer contains about twenty-five hundred figures. While performing this feat he also extracts square root, cube root, and adds long rows of figures. Squaring seventeen and its products one after the other seventeen successive times, he has placed the answer on a roll of paper six hundred and fifty feet long six times the length of it. This makes an answer thirty-nine hundred feet long. Mr. O'Neal says he can square numbers instantaneously that would take from the first of creation to the present day to figure out in the ordinary way. Mr. O'Neal has a small competency and cannot be persuaded to put his gift to practical use.